Dental Veneers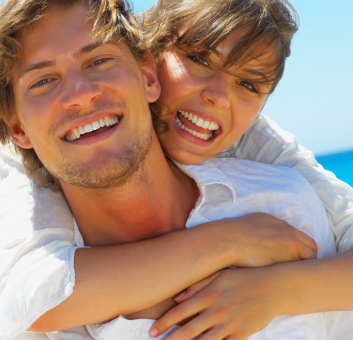 Achieve the Perfect Smile with Dental Veneers from Peninsula Dental
A dental veneer is a thin piece of toothlike material that can be placed directly over your natural tooth to reshape it and improve its appearance. Dental veneers are made out of the highest quality porcelain materials and look and feel completely natural. Using veneers for teeth, we can fix the appearance of cracks and chips. We can also:
Reshape or elongate teeth to create a more uniform appearance.
Whiten teeth without teeth whitening.
Close gaps between teeth.
Straighten teeth without the use of orthodontics.
And more.
Patients love veneers because they can accomplish multiple purposes at the same time. Wearing veneers, your teeth will feel stronger, and you can experience a greater level of confidence. Our veneers are a safe, effective, and simple way to achieve all of your smile goals.
The Porcelain Veneer Procedure
First, Dr. Sweet or Dr. Burns and their team will meet with you to discuss your smile goals. Together you will determine how many veneers will be needed, and how the procedure can be best personalized to meet your unique needs.
Your veneers will be crafted individually using molds and impressions of your natural teeth. Each veneer will be created specifically for you, and will be designed with your optimal fit and comfort in mind.
Before your veneers are placed, Dr. Sweet or Dr. Burns will prepare your teeth to ensure that the veneers will bond properly and deliver the best results.
Once your teeth are prepared, Dr. Sweet or Dr. Burns will place each veneer. Temporary veneers may be placed if your permanent veneers are still being crafted.
After your permanent veneers are placed, you'll be able to walk out of our office with the perfect smile you've always wanted.
To find out more about dental veneers or to schedule an appointment, call us at our office today.