Advanced Reconstructive Dentistry
Enjoy the Benefits of a Full, Beautiful, Functional Smile with Advanced Reconstructive Dentistry from Your Peninsula Dental Team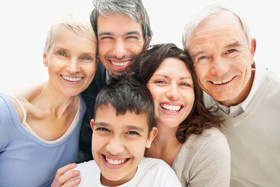 Advanced reconstructive dentistry, also known as a full mouth reconstruction, is a dentistry service that combines cosmetic and restorative dentistry to create a full, beautiful smile.  If you or a loved one have a smile that is in need of serious repair, the Peninsula Dental Team is here to help. Our advanced reconstructive dentistry services focus on helping the patient improve their smile in a way that promotes greater beauty and health.  When you choose to have a full mouth reconstruction, we will meet with you and schedule a consultation with Dr. Sweet or Dr. Burns to begin planning. With advanced reconstructive dentistry, even if you have experienced serious tooth problems in the past, we can help you experience a healthier, happier smile.
The Benefits of Advanced Reconstructive Dentistry
We personalize each advanced reconstructive dentistry treatment to meet the needs of each unique patient.  Before we begin a full mouth reconstruction, we'll take the time to get to know you and develop a meaningful treatment plan.
At Peninsula Dental, we believe in functional cosmetic dentistry.  We perform every procedure with the aesthetic of the patient's smile, and the smile's functionality in mind.  Our cosmetic dentistry services will help you achieve the smile you've always wanted, and our restorative dentistry services will fix damage and help your smile last.
With a smile that you love, you'll be able to feel more confident during social situations, and enjoy greater happiness.  Your peers and the people you meet won't even be able to tell that you've had a full mouth reconstruction.
To find out more about full mouth reconstructive dentistry, call us at our office.  We would be happy to answer any questions you might have, or to schedule an appointment.